It is that time of year again! Time for Bonnie Hunter's annual Mystery Quilt (aka MQ).
And all I can say is YAY!!!!!!
This year, Bonnie was inspired by the sites and colors of the Grand Hotel on Mackinac Island, Michigan and has named her quilt pattern
Grand Illusions
. If you would like to know more about Bonnie, her quilt patterns, or would like to participate in the completely FREE and totally FUN
Grand Illusions
MQ (aka GI MQ), please click
HERE
.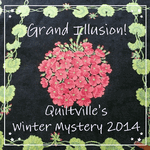 The colors in the medallion represent most of the colors she used in her GI quilt: a rose color, a turquois, green, yellow, and of course, black and neutrals.
I loved the colorway right off the bat and pulled fabrics from my stash, shopping for a few turquois. I knew I would get a late start due to some obligations but accepted it somewhat gracefully :). Then I ended up with an ongoing and fairly severe cold (as colds go), which is still lingering.
Anyway, I am ready to start - the fabrics have been gathered and ready to go for weeks... but now I am just not "feeling" the colors anymore. However, shopping my stash and looking at other colorways, nothing seems to be striking my fancy.
I have decided that it is the STILL lingering cold and will push forward with Bonnie's colorway. I may start by doing half the suggested blocks in case I end up doing a twin size quilt.
The colors are so pretty though~~
<<< Green
Yellow >>
(it really is the
right yellow in real life )
<< Neutrals*
Rose >>
<< Turquois
and
Black >>
* I still need to pull a few more neutrals from my stash.
So, tomorrow I need to run some errands, including getting more cold meds, and hope to actually start cutting on Wednesday. Two clues (aka steps) have been released so I need to get off the cold meds and get going!!!!
Besides, I talked two of my besties into doing the MQ with me.... its their first MQ (they are also "scrappy newbies") and they are both working on step two.... and I am still at the starting gate!!!!
It just takes ONE person doing ONE nice thing to make the world a better place to live.